Preparation
Mix the contents of the box (5Kg) in 25 liters of boiling water. Stir vigorously and ready.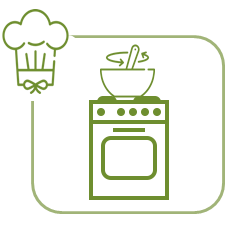 Product Performance

Conservation
PACKAGING: Packaged in a protective atmosphere.
5kg bag arranged inside a cardboard box. The bags are made of aluminum-nitrogen treated.
STORAGE:
In a cool, dry place.
SHELF LIFE:
18 months under the conditions indicated in original containers.
Ingredients
Cream of potato, from exclusive potatoes.
The production process consists of the following steps: washing, peeling, cutting, cooking, grinding and drying.
Potatoes, skim milk (7%, contains lactose), vegetable oil, salt, emulsifier (E-471), stabilizer (E-450), flavor, antioxidant (E-304), riboflavin dye.